*NEWS!*
- litter news, competition results & champion news -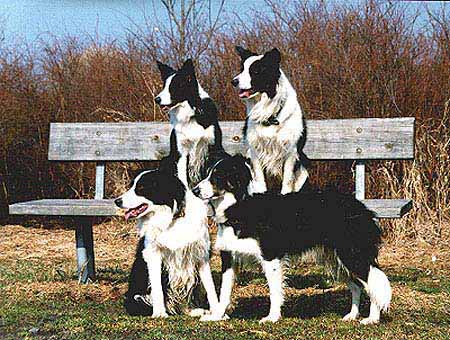 -obedience seminars also abroad-
Contact
e-mail
Kennel Tending is a little kennel in Southern Finland, near Helsinki. We; Mrs. Riitta Jantunen-Korri and Mr. Pekka Korri train and compete with our dogs in obedience, in working trials and in herding, and also we breed border collies from sheep dog and sport dog lines on a small scale - our aim is to breed competition dogs for obedience /agility / working dog trials ( tracking, searching ) and still have a dog with a good natural herding instinct.
We have been happy to breed border collies successfully about twenty years now; at that time our breedings have won about 100 medals in Finnish Championships in different dog sports (obedience, working trials, agility, sledge dog trials, junior championships of herding). Also our breedings have been chosen to National Team in agility (years 2004-18), obedience (2001-2019) and working trials (2002-19). Our breedings have won about 30 medals in Nordic Championships; in obedience, agility and in working dog trials.
In World Championship-level our breedings have won over 10 medals in Obedience (and many many team-medals), also one medal in Agility World Championships, as also two medals in Agility European open and one in World Agility Open Championships.
In Finland the border collie is divided into show and working lines. Show quality border collies are bred mainly for their beautiful appearance, not for the herding instinct or working abilities there. Show border collies are usually from Australian / New Zealand show lines. These dogs are registered in the Finnish kennel Club ( a member of the FCI ).
Also we have some working border collies working with sheep and livestock in Finnish farms. They are however still regarded mostly as mixed breed in the Finnish Kennel Club and cannot therefore compete in tracking or searching, for instance. There is an association for the working border collie that keeps their own records and promotes the use of working sheep dogs on Finnish farms.
As we also want to breed competition dogs for dog sports, our puppies are registered in the Finnish Kennel Club. They have the right to compete in obedience, tracking etc. but also in herding tests.
Here at Kennel Tending we believe in maintaning the excellent working abilities of the border collie. Our breeding stock comes from isds-lines, which have proven their herding skills in action. We have also chosen some old English obedience (sport) lines for our breeding work, and of course our own female line is mostly very successful obedience/working trial competitors. There are nowadays five- six generations of Ob/WT/Ag Champions in our own breeding blood lines - and many of them have competed in national team (international) level too.
Our first border collie was named OB.CH Brains Fjolle, and she was from Norway. She competed in obedience at the highest level and represented Finland for three years in our National Team. From Norway came also our next females, OB.CH Brains Hyasinth Velho and WORKING TR.CH Glen-Fly.
Before border collies we owned some Belgian Shepherds and also OB.CH & WORKING TR.CH Opas Ready Teddy. Teddy was a German Shepherd male, and one of Finnish Guide Dog School breedings - Pekka is the breeding manager and senior instructor at the only Guide Dog School in Finland.
We have only two or three own dogs living with us, so they are all family and competition dogs as well; WT Ch M-10 Tending Shaman (winner of WT Championships), Ob.Ch Tending Joy, and Ob.Ch WT Ch Tending Mystic and young JK3 BH Tending Outright are all from our own breeding stock.
Most of our breedings compete at the highest level of obedience / working trials / agility. Some of our breedings work also as a sheepdog in Finnish farms and have done a basic shepherding test.
Our aim is to breed border collies who are mentally strong and also have lot of intense, focus and willingness to work.
If you got interested in our breeding work; please just write to us!

Our e-mail: Kennel Tending

Puppies sometimes available from healthy, successful Ob./WT/Ag Ch-parents.

NEWS!
- litter news, competition results & champion news -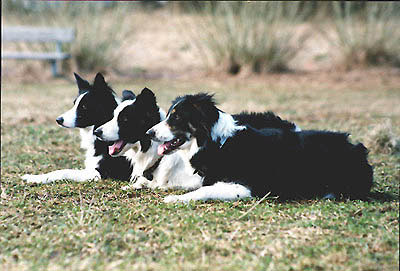 We`d like to thank Kennel Brains, Norway, and Kennel Gränsvallarens, Sweden, for co-operation.